Carlito Dalceggio is truly a contemporary artist, totally of this moment and intentionally transcending strict definitions of art and commerce. His work—a visual language spanning painted tarps, sculpture, video, installation, to public art murals– reflects the seamless ease in which he moves between genres and cultures all in the service of creating the mythology of now. 
Carlito's colorful world is at once folkloric and futuristic. Working out of his signature black sketchbooks and pop up studios from Mexico City, Istanbul, to Paris he is in constant rotation around the globe collecting inspiration as both a local and a nomad. Carlito is heavily influenced by modern and ancient rituals such as Dia de Los Muertos in Mexico, whirling dervishes in Turkey, Persian calligraphy, beat poets, the pursuit of myth in art history, cobra movement, modernists, theory of the Duende, and jazz innovators such as Miles Davis and John Coltrane.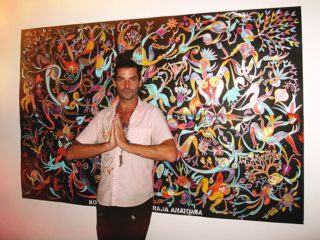 More recently, his social experiments have grown to include the Caravan of Light art camp at Burning Man, a freedom temple sculpture-installation on the historic Plaza Santo Domingo, in Mexico City, a mural for the APEC summit in Vladivostok, Russia and a mural involving children living in the Rio de Janeiro favelas.