She is a creator of monolithic, immersive & allegorical sculpture works that aim to catalyze social engagement, and shift consciousness, while exploring themes that range from technological sustainability to creation myth, and from self-empowerment to environmental awareness.
She synthesizes structural steel, mirror and L.E.D. light programing to construct conceptual work that is developed through  3D modeling software, and CNC laser-cutting, which results in the fabrication of publicly commissioned artworks to precise structural engineering standards.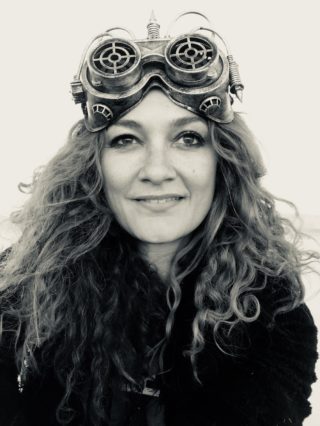 Kate Raudenbush is a New York-based, Burning Man-bred artist, who resonates deeply with environmental issues, and the perils and potential of our evolving humanity

.
As a self-taught sculpture artist, the power of her work lies in its ability to illustrate and raise awareness of important social and environmental concerns, without compromising strength or aesthetics, often creating a feeling of sacred space and other-worldliness.
As the most prolific solo female artist at Burning Man, Kate created the first Burning Man sculpture to be collected for the permanent collection in a US museum in 2007. In 2019 She received the national Citizen Artist Award from Americans for the Arts at the US Conference of Mayors in Washington DC.
Kate's work and words have been published and exhibited in art museums from the Renwick Gallery/Smithsonian Museum in Washington DC, to the Nevada Museum of Art, Reno, to the Hangaram Art Museum in Seoul, South Korea. Artworks have been created for international art fairs from Miami to the Hamptons, and for festivals and civic squares from Amsterdam to Las Vegas, Santiago Chile, Montreal Canada, San Fransisco, Reno, Lake Tahoe, Washington, New York City, and in the creative vanguard of many epic, fiery gatherings at Burning Man.