Since 1994, upon founding his own artistic production company, leading Thai contemporary artist Navin Rawanchaikul has been working to bridge the divide between art and life in his wide-ranging projects. His works, as he writes, "rely heavily on team spirit and collaboration," and include performances, films, public art projects, comic books, merchandise, and a "political party," whose platform is to connect people named Navin worldwide.
Such tongue-in-cheek projects stem from Rawanchaikul's discontent with what he sees as the insularity of the art world. He wants to transform art into a product for mass consumption, without compromising its integrity. This democratic goal catalyzed the experiment that launched his career, "Navin Gallery Bangkok" (begun 1995), a taxicab-cum-gallery that surprised unsuspecting riders with a mobile art experience, and that models a vastly more generous system for distributing and presenting works of art.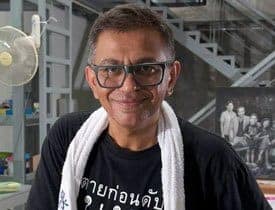 Navin Rawanchaikul works in various media including sculpture, painting, performance, photography, and film. Rawanchaikul's Places of Rebirth (2009) was inspired by the artist's first visit to Pakistan, the birthplace of his ancestors.
Known for his collaborative community projects and multifaceted exhibitions, Navin develops projects involving community participation and connectivity. His works, often taking the form of comic books, interactive board games and other site-specific merchandising, borrow from commonly used mass communication and pop culture to bridge the divide between high and mass art and to facilitate the communication of life and art by means of reality. Rawanchaikul has exhibited widely, to include P.S.1 Contemporary Art Center, New York; Queens Museum of Art, New York; Palais de Tokyo, Paris; 11th Sydney Biennale, Australia; 2nd Kwangju Biennale, South Korea; Museum of Contemporary Art, Tokyo; Wiener Secession, Vienna, Austria; The Contemporary Art Gallery, Vancouver, Canada; and National Gallery, Bangkok, Thailand. Born in 1971 in Chiang Mai, Thailand, Navin lives and works in Fukuoka, Japan and Chiang Mai.